About IMTI
Programs
Contact Us
JONATHAN ALDERSON BIOGRAPHY
After completing his Masters of Education in Administration, Planning, and Social Policy at Harvard University, Jonathan has a private educational consulting practice in Southwestern Ontario working primarily as an autism treatment specialist training families with special needs children. Combining experience as the Curriculum Specialist Coordinator with Teach For America in Houston, Texas, an internship with the Harvard Family Research Project, and as a coordinator of the Intensive Preparation for the Study of International Education (IPSIE) program at the Harvard Graduate School of Education, Jonathan's diverse education and work experience provides the inspiration for his focus on bringing innovation to the field of autism treatment.
Jonathan developed an early interest in education and leadership development working with children with cancer as well as teaching in a remedial reading program for children from disadvantaged homes. After completing an undergraduate degree in developmental and educational psychology at the University of Western Ontario, and completing a year at the Sorbonne University in Paris, Jonathan published his honors thesis in the
Journal of the Society for Accelerative Learning and Teaching
.
A 3-year intensive certification training in autism treatment at the Son-Rise Program of the Option Institute in Massachusetts, including over 1500 hours of one-to-one floor-time with autistic children, strongly influenced his current focus on a humanistic approach to autism treatment. Jonathan worked at the Option Institute as Administrator of the Son-Rise Program for children with special needs and as a senior therapist trainer. Working as both a senior teacher and parent trainer, Jonathan instructed more than 3000 families and special needs children around the world. He then spent a year as the Son-Rise Program Europe-based representative living in London, England and supporting families in the United Kingdom, Ireland, Holland and Spain running home-based intervention.
With experience delivering seminars and training workshops internationally (including Europe, the Middle East, Australia and Mexico) Jonathan has been a speaker at the Royal College of Pediatricians (University of Nottingham) and for the Canadian Psychiatric Research Foundation. Along with a six-year term on the Board of Directors of the Option Institute, he is also a member of the Autism Society of Ontario, the American Counseling Association, and Phi Delta Kappa International. Most recently Jonathan has specialized in merging educational and biomedical treatments of autism and related disorders toward an integrated model he has developed called Intensive Multi-Treatment Intervention.
In 2010, Jonathan was named nominee for The Globe and Mail's 25 Transformational Canadians.
INTERNATIONAL CONFERENCES
Invited to participate as a keynote speaker/ panel member at the following international education conferences:
Royal College of Pediatricians, Nottingham University, England
International Symposium on Autism, Holland
Lecture Series, CPRI London Psychiatric Hospital, Ontario, Canada
Conference on Mental Retardation, Palm Beach, Florida
Weekly-Guest Professional, Health Issues, www.holisticmed.com
CANADIAN LECTURES AND WORKSHOPS
Designed and presented to various audiences of up to 200 participants:
MerryMount Children's Center, Introduction to Autism Treatment,
London, Ontario
September, 2003
Children's Aid Society, Autism Resources Workshop,
London, Ontario
September, 2003
Ontario Early Years Center, Parent and Staff Autism Seminar,
St.Thomas, Ontario
October, 2003
Cambridge Association of Mental Health, Multi-Treatment Intervetion,
Cambridge, Ontario
November, 2003
Ashley Oaks Public School, Prof. Development: Autism in the Classroom,
London, Ontario
April, 2004
Community Living Cambridge, Biological Treatments for Autism,
Cambridge, Ontario
February, 2005
Catholic Children's Aid Society of Toronto, Home-Based Programs for ASD,
Toronto, Ontario
May, 2005
Children of Autumn Autism Association, Three-day Autism Workshop,
Jasper, Alberta
March, 2006
Autism: Multi Causes, Multi Treatments,
Edmonton, Alberta
March, 2006
Candian Psychiatirc Research Foundation, 6th Annual Workshop Day,
Toronto, Ontario
April, 2006
Town of Jasper Children's Center and Daycare, Staff Training Day,
Jasper, Alberta
September, 2006
Thames Valley District School Board, "Making a Difference Conference for Educational and Instructional Assistants",
London, Ontario
February, 2007
Seminar for Reaching Out to Family Homes, Foster Parents for Children with Special Needs

May, 2008
Nancy Campbell Collegiate Institute: Professional Development Training Workshop
London, Ontario
May, 2009
Presenter - Educational Day, Integrative Approaches to Treatment of Autism Spectrum Disorders
Mississauga, Ontario
May, 2009
Guest Autism Specialist - Autism Webinar Series, What you don't know can hurt your child in the IEP process
June, 2009
Guest Speaker: Third-Year Abnormal Psychology Course
York University
August, 2009
Presenter – AutismOne 2009 Canada Conference: Autism Changing the Course
Toronto, Ontario

Jonathan will present a seminar outlining the key Attitudinal Fitness™ concepts and strategies that help parents and professionals maintain patience, creativity, acceptance and focus during the most challenging situations and behaviours.
November, 2009
Jonathan is available for private consultation, group training, and
workshops
.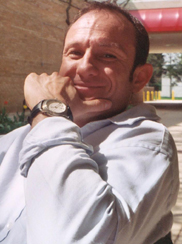 "Over 15 years, I've learned about patience and acceptance from the special children and people with autism I support. And I feel honoured to work each day with such committed parents and therapists.
Every child has their own unique strengths and challenges. There is no single approach to supporting those with autism, with one exception; acceptance and joy."

Jonathan Alderson, Ed.M.
Founder, IMTI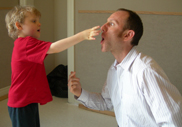 An IMTI play session with Jonathan